The challenge for this week is a Recipe Binder. Several months ago I started researching all natural, environmentally friendly products. I also started reading labels and trying to eat healthier and cook more from scratch. The recipes I collected soon got out of control so I started a recipe binder. Thanks to Jillian (my blog partner) my recipe binder has a fun fabric cover. For the tutorial on this go
here
. The best part is it's removable and washable. Jillian thought of everything!
Unfortunately, I covered my dividers with scrapbook paper before I made the fabric cover and they don't match. I'll have to use these for a different binder and make some new ones sometime.
The categories I have so far are
Breakfast
Main Dishes
Pasta
Sides
Soups
Snacks
Desserts
Sauces/Broths

Homemade Mixes (I've started making my own mixes - so far I have Nestle chocolate milk mix, taco seasoning mix, ranch dressing mix, spaghetti sauce mix and I want to start making my own butter)
I have also copied tons of recipes from books I've checked out from my local library. These categories are
:
Once A Month Cooking
Once A Month Cooking Family Favorites
Freezer Cooking
The Best Freezer Cookbook
The Frantic Family Cookbook
Small Batch Baking
The MSG Symptom Complex
I have also started a second binder that I need to make a cover for. The categories in this one are:
The Sneaky Chef
The Sneaky Chef to the Rescue
Deceptive Delicious
The Healthy Kids Cookbook
Gooseberry Patch
I'm hoping to make several mixes up to store in my pantry and fridge and to transition to Freezer Cooking eventually. I'm starting to make "dry mixes" in ziploc bags for cakes, brownies, muffins, chocolate chip cookies, etc.so that when I want to make some all I have to do is add the wet ingredients.
I'm also working towards making my own cleaners and other household items. The ones on my list (some I already to and some I'm hoping to start this year) are:
all-purpose cleaner
laundry detergent
fabric softener sheets
shampoo
deoderant
swiffer dust pads
TBD
*I also want to start making my own butter.
I need to add a tab in my binder for these or maybe just start a new binder. Eventually I'll add a new category to this blog for homemade cleaners and homemade mixes.
In the meantime if you're interested in one I've listed leave a comment or e-mail me and I'll share it. If you have any that you've used I'd love to know what they are so I can add to mine. Thanks!!

If you want to join the weekly organization challenge visit A Bowl Full of Lemons Blog.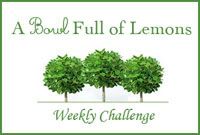 ´¨)
¸.·´¸.·*´¨) ¸.·*¨)
(¸.·´ Denise