I was a little nervous when my friend asked if I wanted to join the 21 day oganizational challenge. I used to be sooooo organized . . . . then I got married and had kids. Now I'm lucky if I can get anywhere on time with everything I need. I really wanted to try to get back to my organzied life so I greed to take the challenge.
I can honestly say that I'm so happy I joined. I love the newly organized areas of my house! I do have to admit that I didn't complete all the challenges. My family got a flu bug near the end so I've been out of commission for about a week. I still plan to organize my master closet, my photos, and my mail. The toys challenge was a huge one for me and is an entire project in itself so that one will have to be completed a little at a time.
The last challenge was "my choice". This was tough for me because I still have a long way to go before my house is complete. I was very excited to see that
A Bowl Full of Lemons
is going to continue the challenge. However, this one will be a little more manageable for me since it will be on a weekly basis. I have to admit that trying to keep up for 21 days was hard and other areas suffered. If you'd like to get more organized and have some great people to help keep you on track click the button below. One of the best parts for me was all the wonderful comments and encouragement I got from complete strangers! Can't wait to get started on the next challenge . . . .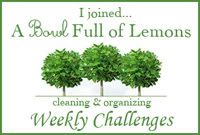 ´¨)
¸.·´¸.·*´¨) ¸.·*¨)
(¸.·´ Denise