This was by far my favorite makeover. My pantry is very large but very shallow. The first thing my husband did when we moved in was to replace the sliders with bi-fold doors. I love that I can open it and see everything. I have organized and rearranged this pantry many times since we moved in about 5 years ago. I haven't been able to find a system that works for us yet. Here's the before shot . . . .
I started by pulling out some thing and grouping them and getting rid of what we didn't need or use. Then I replaced some of the containers that weren't working for me. Hence, the expensive part. I bought new containers for my flour, sugar, brown sugar, and powdered sugar. I've had my eye on them for a while but I hesitated to buy them because they weren't cheap. I also bought a couple glass jars for my cupcake liners and sprinkles, a few fabric bins for storage on the floor, and a couple lazy-susans for all my spices.
I used the empty flour and sugar containers for chips. Once I had everything in the new containers I grouped everything into categories like chips, baking, spices, cereal, etc. and found new homes for them on the shelves.
The last part is my favorite. I labeled some of the containers, the fabric baskets, and I also labeled the shelves. I'm hoping this will help my husband keep things in order. I didn't label everything, just some of the main categories. Here is my end result. . . .
I LOVE the labels!!
I also added one more fabric bin to the floor for the glass jars. I love that everything is so organized and easy to find and I actually have extra space. I think that may be a first for me. I was able to store some cake stands, an ice cream maker, and some recipe binders that were stuffed in other places. I'm thrilled to have the part on the floor more organized and for the first time I can get to things in the corners without having to move a ton of stuff out of the way. I also organized the bottom shelf for my kids. They know what snacks and treats they can have and they can get to them without my help. For the finishing touch I added a small basket on their shelf that holds marshmallows, graham crackers, and a couple hershey bars for smores making on those cold winter days when we have a fire.
I'm loving this organizational challenge. If you want to join check out A Bowl Full of Lemons!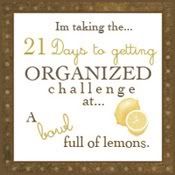 ´¨)
¸.·´¸.·*´¨) ¸.·*¨)
(¸.·´ Denise