While I'm glad this was on the organizational list I was secretly terrified to "organize" this area. It's so gross under my sink. I know I said in a previous post that my cabinets in my kitchen are fairly well organized but this is the exception. I opened the doors this morning but just couldn't bring myself to start working. I left them open and every time I walked through the kitchen it seemed to be calling my name.
After lunch I finally felt ready for the task. I pulled everything out, scrubbed out the floor area. Luckily we had already placed a piece of linoleum in there so it was easy to clean. I also scrubbed out the one basket that I was using to hold everything. Next I purged some things we never use or toxic cleaners I'd rather not use anymore. We're trying to switch to healthier more eco-friendly cleaners. After that it was just a matter of putting everything away.
Not a huge transformation but it is more organized, and definitely more clean. The only think I think I may put on my wish list is some sort of two tiered rack to use instead of the white basket.
While I was working under there I decided to hang this really cool holder I have for aluminum foil, saran wrap, etc. I've only had it about 10 years. . . . I'm surprised I was able to find it so fast. It's basically just a thin piece of balsa wood that you screw to the bottom (or side) of the cabinet frame. It's in the shape of a W and you simply cut slits in the boxes and slide them onto the fingers. So easy to install and use. I can't believe I was wasting precious pantry space when this took only minutes to install. I have two more smaller ones that I need to put on the other door for sandwich bags.
If you'd like to join in we still have 16 days to go. Check out A Bowl Full of Lemons.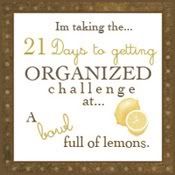 ´¨)
¸.·´¸.·*´¨) ¸.·*¨)
(¸.·´ Denise