I

love
organizing!!
I may not be the best at it but I love tackling a project and I especially love the end results. That's why I love the challenge this month from
A Bowl Full Of Lemons
. She is
proposing a challenge a day for 21 days. Today's challenge was to organize a junk drawer. I have to admit that I waited till the last minute as it's almost 11 pm and I'm just posting this. I was distracted finishing my new camera strap cover. I love how it turned out.
Not the best picture but it was already on my camera so it was hard to get a picture. I love the little pocket for my lens . . . . no more lost lens cap! My husband will be sooooo happy.
Back to the task at hand. I knew instantly which drawer I would attack. I've had this drawer on my list for months. It has all kinds of misc takeout menus (even though we rarely use them), misc plastic baggies, and TONS of chargers for various electronics. My main goal with this drawer was to purge and organize the chargers.
I've had an idea in mind for the chargers since I found a shrink art oven at a garage sale last summer. I used my white shrink art paper and a tag paper punch to make cute little permanent tags for each one. I wrote on them with a permanent marker before I shrunk them, punched a hole and once they were shrunk I just needed to tie them onto each charger.
Ahhh, a newly organized drawer
Hopefully, I can get as motivated as Jillian and finish the rest of the desk. Here's the next drawer on my list (my husbands). I'll have to wait until he's at work to tackle this one.
Or maybe I should play it safe and just work on my nightstand. . . . . .
If you'd like to join in just hop on over to A Bowl Full of Lemons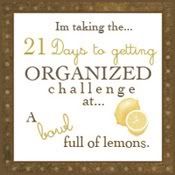 ´¨)
¸.·´¸.·*´¨) ¸.·*¨)
(¸.·´ Denise